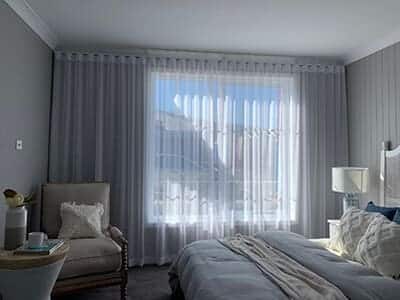 We had the pleasure of fitting out two new display homes for Adenbrook Homes at Box Hill in 2021.
For the main bedroom, the interior designer wished to create a cosy, soft ambience which was achieved beautifully with this sheer curtain in a contemporary S-Wave pleat in the beautiful linen look Bali fabric. We suggested mounting the curtain under the cornice and designing it to go from wall to wall which gave the illusion of extra height and width to the room.
This soft window furnishings complemented the rest of the bedroom décor beautifully to create a relaxing, main bedroom for this gorgeous home.