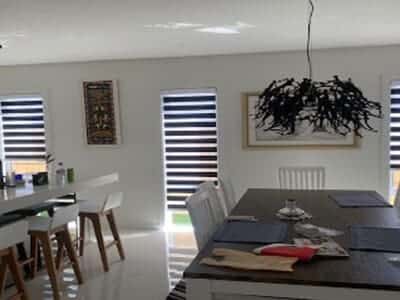 This retired couple were re-locating into their new home and wanted easy care window furnishings which would allow them to adjust the amount of light entering their rooms..
These dual shades in a dark shade complemented their decorating style perfectly whilst giving them the option to adjust the visibility in accordance with the amount of privacy and light required for each room.
These customers chose dual shades for their windows as they loved the functionality of having night time privacy by aligning the blockout strips, but during the day being able to realign the strips of fabric to allow soft filtered light to enter the rooms according to their needs. These blinds can also be rolled up completely to allow maximum light to enter the room if desired.