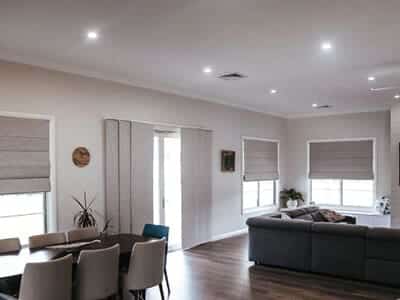 These customers recently built their dream home on a beautiful acreage property on the banks for the Grose River in northwest Sydney
They chose the elegant look of beautiful roman blinds in soft, textured Le Reve blockout fabric in a mid grey tone. When open, the roman blinds roll up into beautiful soft folds of fabric  and are  operated with a chain control which is secured with a childsafe device meaning there are no dangling, messy cords to worry about. They also opted to motorise the roman blinds in the bedrooms and had these blinds connected to a WIFI hub which allowed them to operate the blinds  remotely with their mobile phones.
These were matched with functional panel glide blinds over their sliding doors which they could retract on the channel track, allowing for an outside view of their beautiful rural property through the glass panels of the door when the blinds were open.
Roman Blinds to Windows & Panel Glide Blinds to Sliding Doors