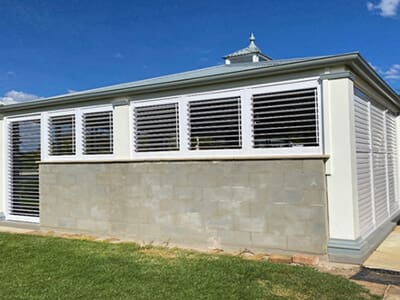 These customers had a custom built outdoor entertainment room built and engaged Blindman to custom design and install aluminium plantation shutters to improve the functionality of the area.
The aluminium louvres of the shutters allow for great light and privacy control. The louvres can be easily tilted to adjust the amount of light and view that is needed in the area at different times of the day. They can also be fully closed to provide protection from the weather such as wind and rain.
These aluminium shutters are powdercoated and come with a 10 year manufacturer's warranty making them a great solution for outdoor areas.
Aluminium Plantation Shutters