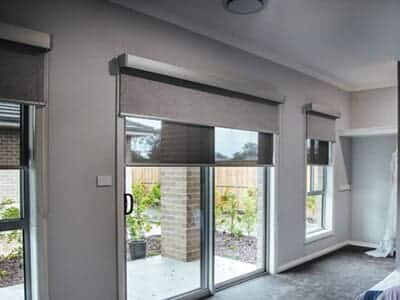 The excited new owners of this beautiful newly built home in the Elara Estate in northwest Sydney chose functional double roller blinds for their windows.
This contemporary design for roller blinds combines the option of having a sheer roller blind with a blockout roller blind. For their daytime blind, they chose a sunscreen fabric which allows for one way vision meaning they have daytime privacy whilst allowing soft light to filter into the room and allowing them to be able to view to the outdoors. At night-time to provide privacy and insulation they have the option of rolling down the blockout blind.
It was decided to install the sunscreen rollers in the reveal and the blockout rollers on the face of the window architrave in order to give maximum light blockage at night-time which was what the customer wanted to achieve.
To give further light blockage and a neat finish to their windows they chose to have aluminium fashade pelmets installed in silver to suit their grey colour scheme and match the silver oval bottom rails on the blinds.